Ahead of our 14th annual Student Housing Conference on 9th May 2023, we spoke with Richard Ward, Head of Research at StuRents, to discuss the current state of the student housing market.
Richard Ward heads up the research team at StuRents and focuses solely on the student accommodation sector.
Since joining StuRents in 2016, Richard has become a leading commentator in the student housing sector and regularly presents StuRents' proprietary data to industry stakeholders, including investors, developers, lenders, and operators.
Richard is also responsible for providing data and analyses to StuRents' customers, helping clients to gain unrivalled insights into the sector. Richard is passionate about improving the quality of data in the sector to help contribute to more informed decision-making.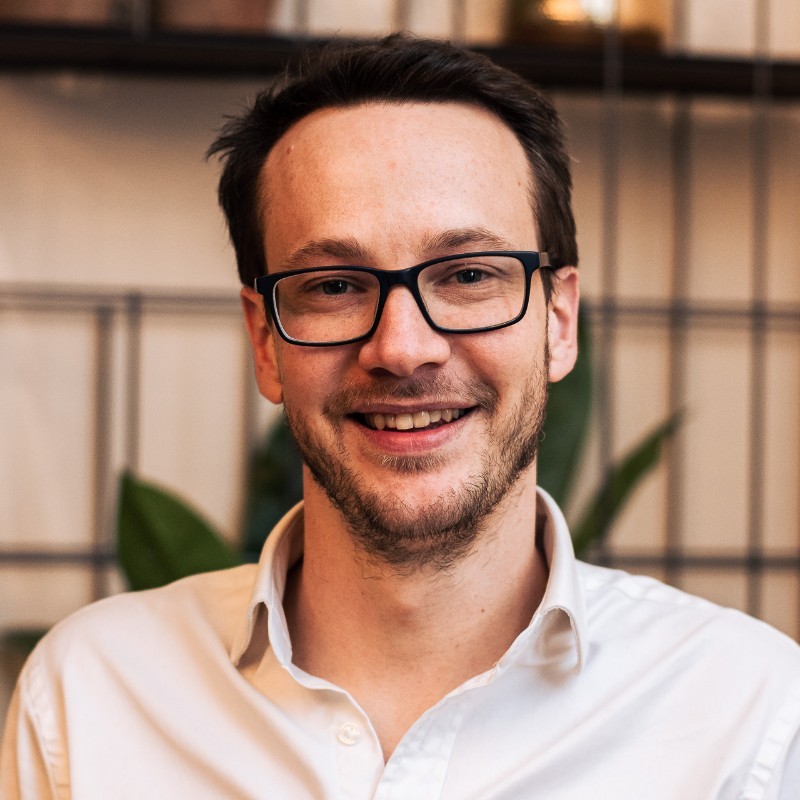 How has demand in student housing changed since the onset of Covid?
During Covid years, we saw some universities taking on too many students. This was primarily due to grade inflation – with many getting higher grades than predicted. Due to this, some of the more prestigious universities took on more pupils than they would have done pre or post pandemic.
As a consequence, post-Covid, we saw a scaling back of recruitment to counteract this, so year-on-year numbers look like they're contracting at higher tariff institutions.
Interestingly, this reduction has been at the expense of domestic students, whilst the international student base continues to grow. One reason for this is likely to be the higher tuition fees internationals pay, whilst those for domestic students have been capped, making the former a more attractive proposition for universities, particularly in an inflationary environment.
For example, 2022 saw a decline in UK acceptances of 0.6%, yet at the same time, international acceptances increased by 15.7%. China and India are two big markets, with acceptances from China up by over 20% and their Indian counterparts up by 130% compared to 2019.
This has the potential to change the demand profile for purpose-built student accommodation (PBSA).
What impact has this had on the availability of student beds?
The impact has been significant. On a micro level, for the first time, the University of Glasgow has taken away their first-year accommodation guarantee. This is problematic, to say the least. Students have been put in a difficult position, which could impact the reputation of a prestigious university.
On a more macro level, demand has been outstripping supply due to the increase in student numbers.
Is the pipeline changing to meet demand?
Yes and no. Planning application has definitely slowed, and we're at relatively low levels by historical standards. In 2016, there were a lot more applications being submitted and approved. Since then, it has slowed. (Finding land, build costs, financing, and alternative use cases are all factors.)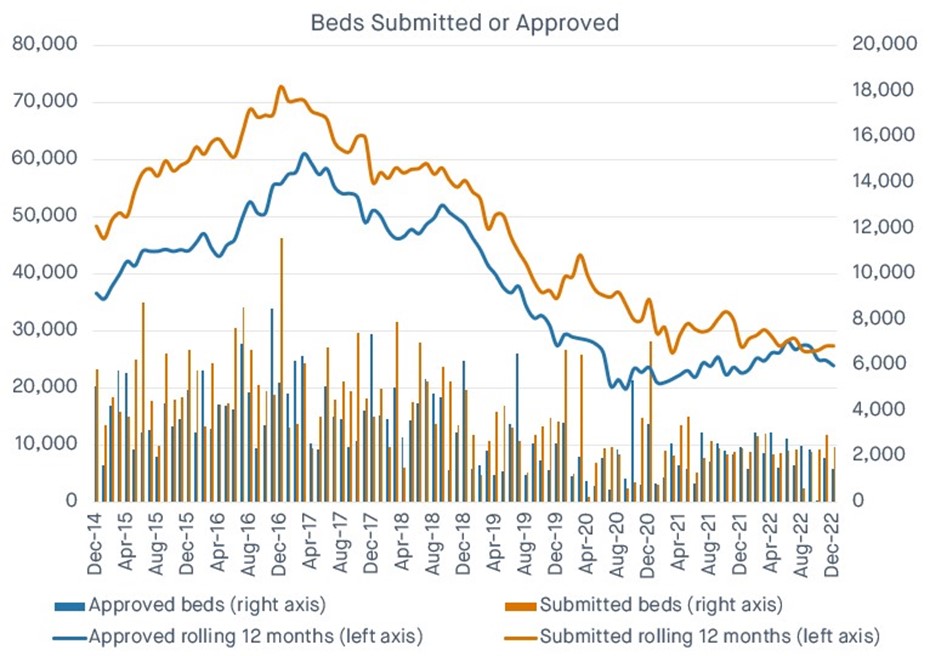 Source: StuRents
In practical terms, this means that the number of beds being put forward has declined. It's a perfect storm as demand is going up, but the growth in supply is falling. And while there are locations bucking this trend, the UK market is not growing fast enough.
If we look again at a micro level, Norwich has seen an increase in PBSA supply of >10% this year, but demand hasn't increased. On a national level, though, demand is outstripping supply.
Another area of concern is that of the price points of new beds. Most of the new supply must be at a higher price point to make it viable, which prices out a lot of the domestic market. Therefore, much of the new stock is highly reliant upon the international market. For domestic students, this is a major issue. UK demand is growing, but where are those domestic students going to live?
The other interesting thing about pipeline is that a lot of the beds are studios. Generally, Chinese students do prefer this setup, but they are only a fraction of the market. Domestic students want larger, cluster-style accommodation, which for the most part, is not being proposed in the required numbers.
What does the future hold for student accommodation?
Rising demand and restricted supply growth are likely to lead to continued rental growth, with cash-strapped domestic students likely to be hit the hardest. For investors, understanding local market conditions is crucial as the national picture is not represented across all locations.
Any final thoughts?
China is the largest international market, but with India closing the gap, it will be interesting to see how these changes will impact on what types of accommodation will be needed.
Another potential challenge is the future changes to EPC requirements. This will mean that any HMO has to have a rating of minimum C. If landlords are not able to upgrade their properties in time, there is a potential for the supply of student accommodation to tighten, which will affect domestic students more than international as many domestic students prefer the setup of an HMO.
Overall, there are some huge issues facing domestic students, specifically around affordability, but with demand continuing to increase, investors could do worse than examining this marketplace.
To learn more about student housing, book your ticket to our 14th annual Student Housing Conference here.